Flume tank trips becoming increasingly important, according to Hampiðjan's Jón Oddur Davíðsson, commenting on the recent annual trip to Hirtshals
'There were 45 of us this time, with guests from Ireland, Russia and Portugal, as well as from Iceland. The tank visit went extremely well, with a number of fishing gears tested this time. The bottom trawls attracted a lot of interest, as did the DynIce fibre-optic cable that people really like the look of,' said Hampiðjan Iceland's managing director Jón Oddur Davíðsson, describing a successful trip to the North Sea Centre's flume tank in Hirtshals last month.
Hampiðjan has conducted trips along these lines for many years, and these are seen as the ideal opportunity for skippers and others to get a realistic picture of how trawl gear performs in the water. Among the demersal trawls Jón Oddur Davíðsson mentioned are the new Jagger trawl that has been in development in recent months, as well as tried-and-tested trawls such as the Gulltoppur, H-Toppur and Hemmer designs which were also demonstrated with a variety of codend configurations.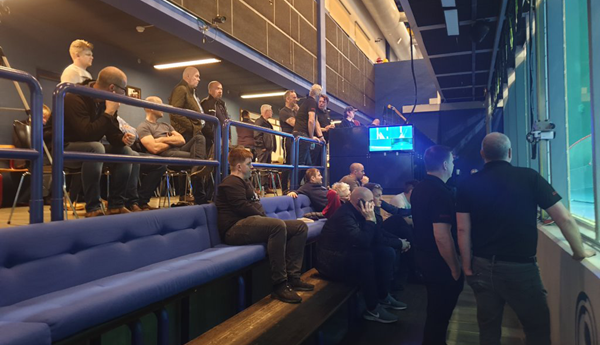 'With the Gloria trawls the emphasis was on the 2048 herring trawl that has been doing some great work recently,' he said, commenting on the Gloria pelagic gear demonstrated at the tank.
'We also demonstrated how belly technology for this trawl has developed, and we also showed a new configuration of this trawl, the 2304, with larger meshes in the wings. Other trawls that attracted interest were the Gloria 3072 redfish trawl and the Gloria 1056 Long Wing that has been used for catching Alaska pollock in the Russian Far East. We also demonstrated the mackerel QuickLine codend with T90 netting for the first time, and a four-panel, triple trouser demersal codend with QuickLines,' he said.
'We also tried out a shrimp trawl designed by Hermann Guðmundsson in Akureyri that has been developed in co-operation with shrimp trawler skippers.'
According to Jón Oddur, Thyborøn Trawldoor and Simrad presented their products alongside the session at the flume tank.
'Thyborøn showed its new line of trawl door products, and a controllable pelagic door was what drew the most attention.
The Simrad team also showed plenty of new ideas in their vision of the future. The main attention went to the FM90 high-frequency trawl sonar that can be used with our DynIce fibre-optic cable,' Jón Oddur said, commenting that the importance of these trips is growing all the time.
'These are hugely important to us. During these trips we have an opportunity to demonstrate the products we are developing, and we get to test them in the tank with our customers. That means that we get instant feedback, we can make alterations and test the gear again. It's also a highly important platform for skippers to see how fishing gears perform and how they respond to particular manoeuvres. On top of that, we mustn't underestimate the value of bringing these guys together so they can swap ideas. During this trip we brought together people who were at school together and who haven't seen each other for many years – as well as others who have been in touch for a long time over the radio, but who have never met face-to-face,' Jón Oddur Davíðsson said.