Fishing companies are already gearing up for blue whiting in the new year. Last year, this fishery began in January, as insufficient capelin had been located to allocate a quota. Now there are hopes that there will be more capelin to be found, and that blue whiting can wait until the end of the capelin season. Iceland's blue whiting quota for next year is expected to be around 200,000 tonnes.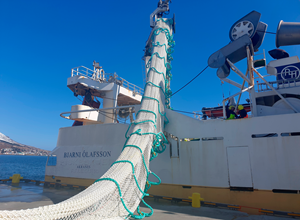 Fishing for blue whiting places heavy demands on the fishing gear, and particularly codends, and especially in the area off Rockall when the Icelandic fleet fishes in international waters. The blue whiting fishery in these waters as winter turns into spring is challenging, with deep depressions that result in stormy weather and heavy seas. Large, powerful vessels are needed to be able to fish there. The fishing gear also needs the strength and resilience to cope with the tensions that come with a codend rising at full speed from a 600 to 700 metre depth.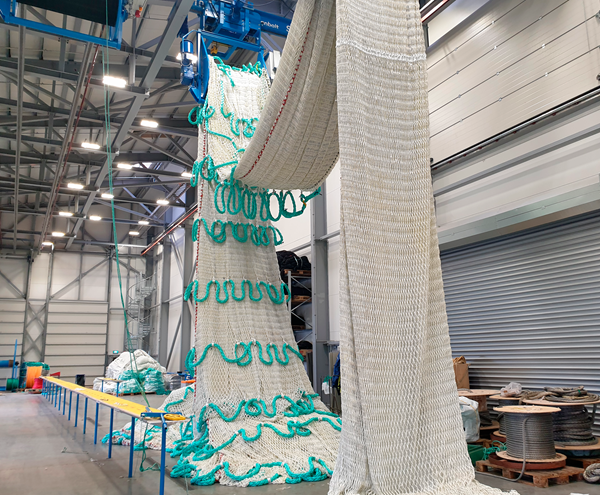 Over the past few months Hampiðjan has been developing an even more robust codend capable of withstanding these high tensions.
The result is the Rockall codend, 86 metres long and with a 48 metre circumference at the top, reducing to a 15 metre circumference at the tail end. This codend has a new, dry weight of 6.8 tonnes, and it expected to hold around 900 tonnes of blue whiting at full capacity. The inner layer is made in 50mm braided Utzon nylon netting, covered with 150mm triple braided Utzon nylon. The back half of the codend is ringed at one metre intervals with restricting strops spliced in 44mm Danline rope.

Hampiðjan expects that this heavyweight Rockall codend will have all the strength needed to handle big hauls taken by large fishing vessels under tough sea conditions.