There was plenty to see during the recent trip to Hirtshals organised by Hampiðjan which took a group of guests to the North Sea Centre's flume tank. The highlights included a quad-rig trawl setup for shrimp developed by Hirtshals company Cosmos Trawl, which is part of the Hampiðjan Group. Due to the gear's spread, only one side of the new quad-rig setup was demonstrated, but it didn't escape notice that this is something new.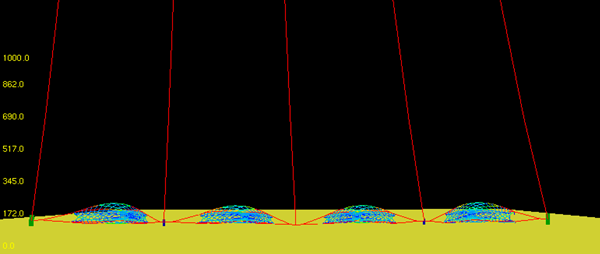 Cosmos Trawl has been at the forefront of shrimp trawl development and production for decades. Initially the focus was on developing conventional trawls. Later this was extended to designs with two trawls towed side-by-side. Then the number of trawls was increased to three and now Cosmos Trawl has come up with an arrangement that makes it possible to tow four trawls with two sets of doors and a centre weight, and to increase catching potential without adversely affecting the trawler's efficiency.
According to Cosmos Trawl's sales manager Thorleif Grønkjær, the thinking behind this is to increase the gear spread by as much as 33% compared to a triple-rig layout. A three-trawl setup uses three 3000 mesh trawls, each with a 120 metre fishing circle. By using four 2600 trawls, each with a 104 metre fishing circle, it is possible to increase the gear spread from 210 metres with three trawls to 280 metres with four.

'The headline height of the 2600 mesh trawl is 7.5 metres, which is fine for the Barents Sea where the shrimp are fairly close to the bottom all year round. By using this size of trawl we calculate the the towing resistance is the same as with a triple-rig setup, with four Type 23 Thyborøn doors and a clump, on 30 metre sweeplines,' Thorleif Grønkjær said, adding that by removing the smaller pair of doors and replacing them with weights, the spread drops by a total of 30 metres.
The new system is ready to be taken into use, although no shrimp fishing companies have yet gone for this option.
Thorleif Grønkjær said that there are good reasons for this; that no fishing vessel has yet been fitted out for towing towing four trawls.
'We're looking to the future and we expect that it won't be long before trawlers capable of towing four trawls are designed and built. These are going to be the fishing vessels of the future,' Thorleif Grønkjær said.