Hampiðjan's catalogue of products for fishing and fishing gear production has never been broader than it is today, with many new products that have been developed in recent months. The product list includes the entire Hampiðjan range of demersal and pelagic trawls, as well as codends, purse seines and wire services.
The catalogue provides a comprehensive overview of all of these product categories, particularly relating to netting and ropes, complete with all the relevant strength and elongation data in graph format.
Among the innovations listed are the new Prima super rope and Primanet, and these super-strength products are available at highly competitive rates.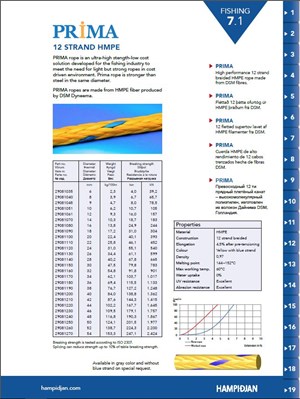 The catalogue is linked to Hampiðjan's web sales outlet, with a click on the graph taking the user to the web store. Each user has access to a personalised area to place orders, check order goods and review older documentation.
Each order placed is registered automatically to the production queue, and an alert goes to the sales division, detailing the order. This alert can also be directed to addresses defined by the customer, enabling a quick and accessible ordering process. This minimises order time, simplifying the work of everyone concerned and saving order preparation time.
Take a look for yourself by going to Fishing Catalogue on the hampidjan.is website.
The catalogue is currently being printed and will be distributed to Hampiðjan's customers in the New Year.