Mekhanik S Agapov, the magnificent new pelagic vessel owned by Russian fishing company Robinzon, has shown some outstanding results recently fishing for mackerel in international waters with a new Gloría HS1600 trawl from Hampidjan.
The ship was completed in 2014 and there's nothing small about its 115 metre overall length and 20 metre beam, which give it a gross tonnage of 8300gt. It has an 11,000hp main engine and carries a crew of 57.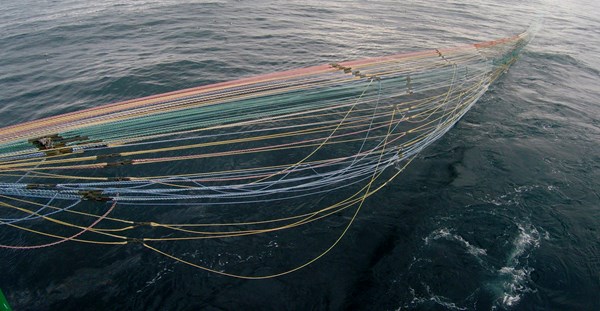 Hampidjan master netmaker Aðalsteinn Snæbjörnsson and Sergey Karpyluk from Hampidjan Russia joined Mekhanik S Agapov and its crew from the 28th of July to the 8th and August with the aim of monitoring the pelagic gear and associated equipment. With a pair of 14 square metre Thyborøn doors and 80 metre sweeplines, HS1600 trawl showed an average vertical opening of 58 metres and a horizontal spread of 160 metres. The ship fished well with this gear setup in comparison to other vessels on the same fishing grounds, and these good results over a short time can be traced to the seamless working relationships between skipper and crew.


«Механик Сергей Агапов» - успешный промысел с тралом Глория HS 1600

«Механик Сергей Агапов», современный новый траулер, принадлежащий российской компании «Робинзон» показывает великолепные результаты на промысле скумбрии в международных водах, используя новый трал Глория HS 1600 от Хампидьян
Строительство судна было окончено в 2014 году. Команде в 57 человек выпала удача работать на современном судне мощностью 11000 лошадиных сил, водоизмещением 8,300 gt. Общая длина 115 метров, ширина 20 метров.
Тралмастер из «Хампидьян» – Адалстейнн Снэбйорнссон и Сергей Карплюк из «Хампидьян Россия» присоединились к команде «Механика Агапова» на период с 28 июля по 8 августа для отслеживания работы нового промвооружения
Работая парой 14 метровых траловых досок «Тюборон», при 80м. кабелях, трал HS1600 показал вертикальное раскрытие 58 метров и горизонтальное раскрытие 160 метров.
С этими настройками, судно отработало с результатами, значительно превосходящими результаты работы других промысловиков в этом районе. Такие хорошие результаты работы с новым промвооружением, достигнутые за короткое время, свидетельствуют и о несомненной сработанности капитана и команды.