Pelagic vessel Sigurður docked in its home port in the Westman Islands last week for the first time since sailing on 24th July. They have been fishing all summer for herring and mackerel, with catches landed at the Ísfélag factory in Thórshöfn. Skipper Hörður Már Guðmundsson is very satisfied with this summer's catches – and also with the fishing gear, all of which is from Hampiðjan.
'This summer's catch was around 8000 tonnes of mackerel and 8-9000 tonnes of herring. Fishing went very well, and even though it was a long way to steam towards the end of the mackerel fishery, all the way into the Herring Loophole, there was always fish. The herring fishery went like a dream. Not far to go and good fishing,' he said.

Sigurður uses Hampiðjan Gloria trawls. The new 1760 mackerel trawl delivered this spring has a lighter configuration eight-panel mackerel belly, along with a footrope made lighter at the front end to lighten the trawl and help the doors. These changes gave a 160 by 40 metre opening, with a 1:4 proportion at the trawl mouth and 1:5 at the wind ends – which is a real advantage when fishing close to the surface.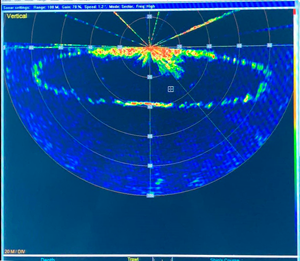 Hörður Már said that this gear layout helps them avoid a by-catch of herring when fishing for mackerel.

The herring gear has a very different design. This is a 2048 metre trawl with a 150 metre opening and using a headline kite can stretch the vertical opening to 80 metres. Hörður Már works both trawls with an 80 metre sweepline and backstrop setup, all made from super-strong DynIce.
The doors are a pair of 15 square metre Bluestreams from Thyborøn Trawldoor.
According to Hörður Már, the crew are very happy with the gear and how efficient it is.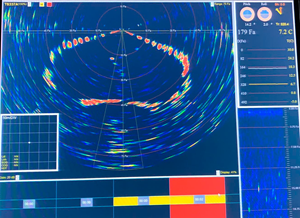 'Last year we got a T90 QuickLine codend from Hampiðjan that we have used on mackerel as well as herring. The experience with the T90 codend has been excellent. There is much less pressure on the fish than there is with the older codends and we see the fish are bursting with life as they are pumped out and into the tanks. The deck crew often see the fish swimming in the tanks when they take a volume measurement between hauls when we're working short tows, and the experienced guys say it's just like pumping out from a purse seine when they see live herring and mackerel in the QuickLine codend at the stern,' he said.

Their QuickLine codend is made in braided Magnet Yellow PE netting, rigged on four, large diameter, strong DynIce QuickLines. Pumping is quick and straightforward, which is important when fishing is good. The QuickLine frame lines keeps the catch secure and it flows evenly back to the pumping section at the aft end of the codend.
When we spoke to Hörður Már, he wasn't sure whether or not this year's fishing was over.

'We're waiting to see how the Icelandic summer-spawning herring behaves. We have a small quota and there could be a decision to go and fetch those tonnes in November or December. Blue whiting is out of the question for us now, as the small quota we had has all been caught,' Hörður Már Guðmundsson said.