Trawl trials on redfish with a T90 codend supplied by Fjardanet in Akureyri, which is part of the Hampidjan Group, have already produced promising results. The codend appears to filter out small redfish in significant amounts and the results look to be similar to those obtained by the Marine Research Institute to separate out small cod while trawling off western Iceland.'We used the standard mesh size for redfish, 135mm, in a four-panel codend in T90 configuration and rigged on DynIce QuickLines (pat. pending). Although this was a trial and we still don't have a great deal of experience in using T90 codends for redfish, we can say that this looks highly promising,' said Angantýr Arnar Árnason, skipper of fresher trawler Kaldbakur. The T90 codend was tested during a trip at the end of May.
He said that the codend released a large volume of live juvenile fish, and was so effective that there were even questions about whether or not the mesh size should be reduced. This is something that needs to be addressed with further research.
'We have tried T90 codends for fishing cod and they are exceptionally effective in mixed fishing. Practically all the cod under 60 cm is separated out and that leaves just the largest and most valuable fish. The first results from the redfish trip indicate much the same conclusions and we have to ask ourselves if we finally have a method of grading out live juvenile fish while towing. This is certainly something that supports the sustainability of Icelandic fish stocks.'
Angantýr Arnar Árnason commented that these trials also showed that redfish do not suffer from burst swim bladders until they are relatively close to the surface, most likely in the last 50 metres before they reach the surface. This was shown clearly on the undersea footage that was recorded while the gear was hauled, right up to the codend being hauled onto the deck.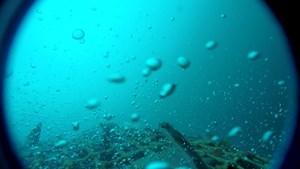 'We have wondered for a long time at what point this takes place. There have been theories that this can happen when the trawl is lifted 20-30 metres off the bottom from a 400 metre towing depth, and this has now shown to not be the case, which changes our ideas about the redfish fishery,' he said.