'An all-round, low-maintenance trawl that catches well,' said Víðir Jónsson, skipper of Kleifaberg, describing the T90 Hemmer trawl supplied by master netmaker Hermann H Guðmundsson and his team at Hampiðjan Akureyri.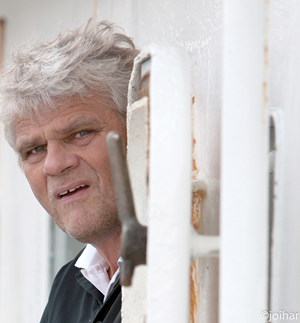 Kleifaberg is one of Iceland's oldest factory trawlers and the success that Viðir and has crew have achieved on board Kleifaberg is remarkable. For the eighth year in a row they are looking at a catch of between 10,000 and 12,000 tonnes. You could imagine that such success lies in generous quotas and access to plenty of cod, but according to Viðir, it's not that simple. 'Our main species is saithe, caught on home grounds. We don't have a great deal of cod quota in Icelandic waters, although we catch a decent amount of cod in the Barents Sea,' he said.

Hemmer since 2008
The first Hemmer trawl was delivered to Kleifaberg in 2008
'This was a 480 mesh trawl that fits our towing power. As this is a T90 trawl, I recall that the boys on deck weren't happy with it to begin with. They thought that everything was wrong, and that's no surprise considering the meshes are turned 90° to the direction everyone is used to. It took a while for them to get used to this, but the crew stopped complaining a long time ago. There's very little repair work needed to this trawl, and there's practically no work on deck around it.'


Hemmer for all species
Viðir said that they have two trawls on deck ready to use and alongside the Hemmer trawl they have a Bacalao 612 trawl.
'We use the Hemmer trawl on all our target species and the trawl sits well on the bottom. It has performed extremely well on redfish, especially on redfish on deeper fishing grounds. It's lighter to tow that the Bacalao gear and as I said, there's hardly any maintenance needed,' he said and commented that he and the crew are satisfied with this gear and work on the principle that if something works, there's no need to change it.

15 years of Thyborøn doors
'We've been using the same doors for a decade and a half. These are Thyborøn doors, and they are 3700kg, as far as i recall. The main thing is that we've figured out what works for us and if we need new doors, I order the same as we had last time. The trawl and the doors are right for each other and that works for us,' Viðir Jónsson said, adding that he keeps to the sweepline length they are used to.

Short sweeps, heavy hoppers
'We probably have the shortest sweeps in the fleet at 110 metres and these have served us well. It doesn't matter how deep we are towing, the sweepline length stays the same,' he said.
Like other skippers towing on a variety of fishing grounds and under changing conditions, Viðir uses rockhopper footropes.
'We have heavy ground gear and my experience is that the heavier the rockhoppers are, the better they work,' he said.

Promising T90 codends
What about other innovations in trawl gear technology? Have any of these found their way on board Kleifaberg?

'We have been working with a 155mm T90 codend from Hampiðjan rigged on DynIce QuickLines, and this looks promising. We have used this codend for fishing haddock on shallow grounds in home waters. The conclusion was that we managed to lose all the smaller haddock and were left with the fish that are ideal for production. We have also been using this 155mm codend for fishing cod in the Barents Sea. The results there were also very good. The smaller fish are separated out, leaving the best, large fish.'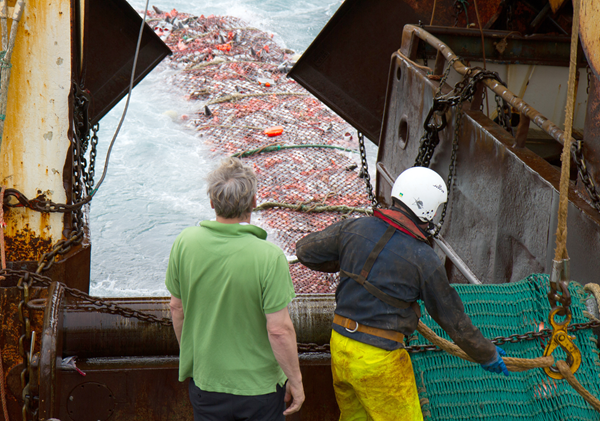 Variable hauls
He commented that hauls vary in size, but everything is tailored to keep production steady.
'We can process around 50 tonnes green weight of redfish in 24 hours, and something more than that when we're fishing for saithe. So it's all right to get the occasional large haul of saithe, as long as the factory deck can cope with it,' Viðir Jónsson said.