The day before Christmas Eve saw the arrival of a magnificent new vessel as an addition to the Síldarvinnslan fleet as the new Beitir NK-123 arrived at its new home port in Neskaupstadur. Beitir was open to the public on Sunday 27th of December.
The new Beitir was built at the Western Baltija yard at Klaipeda in Lithuania and was delivered as the Gitte Henning to its owners in Denmark in 2014. One of the largest fishing vessels in the Nordic region, it measures 86.30 metres overall with a 17.60 metre beam and is registered at 4138gt. It has a 3200 tonne carrying capacity, and in comparison, this is approximately quadruple the 750 tonne capacity of Börkur NK-122, which was delivered to Iceland in 1973, and was at that time the largest purse seiner in the Icelandic fleet.
Síldarvinnslan is one of Hampidjan's longstanding customers and its vessels have been successfully fitted out with Hampidjan fishing gear for decades. The Hampidjan fishing gear form the old Beitir will be transferred to the new vessel as required, and this includes Gloria Helix pelagic trawls for capelin, herring, mackerel and blue whiting. Beitir is now in its first trip on blue whiting in Faroese waters.
Hampidjan would like to congratulate Síldarvinnslan, Beitir's crew and the people of Nordfjördur on the acquisition of such a fine new ship. There is no doubt that the new Beitir is going to prove a lucky ship and will contribute in no small way to the Icelandic fishing industry in the coming years.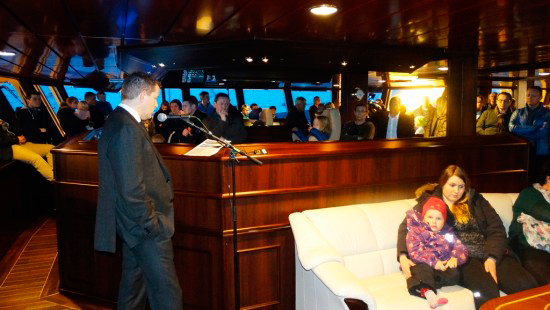 Síldarvinnslan managing director Gunnthór Ingvason addressing guests in Beitir's wheelhouse
Photo: Hákon Ernuson