Full pelagic package for Danish pelagic newbuild
The newest and one of the most sophisticated vessels in the Danish fleet was delivered to its Swedish and Danish owners, Astrid Fiskeri A/S, at the end of July. S 264 Astrid started fishing right away and has done well with its full package of fishing gear from Hampidjan subsidiary Cosmos Trawl in Skagen.
Astrid is a magnificent ship, built at the Karstensens yard at Skagen, which is also Astrid's port of registration. It has an overall length of 70 metres, a beam of 15 metres and measures 2352gt. Astrid is designed for pelagic fishing and has a 2100 cubic metre tank capacity.
Behind the company are the Johansson family of Rörö in the Swedish archipelago off Gothenburg, along with Danish partners Jean Vad and Mogens Christensen. The Johansson family also operate the swedish boat GG 764 Astrid and two generations are involved in operating the two vessels. The skippers are Börje and Tomas Johansson, and their sons Daniel, Kristian and Johanes are also on board and preparing to step up to sail as mates and skipper of the future.
Astrid targets mainly herring, mackerel, spaerling and sandeel in the North Sea. Astrid also has a Baltic brisling quota and a quota for blue whiting that is taken west of the British Isles.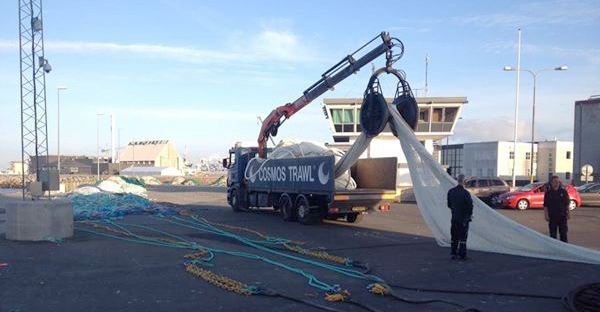 Fishing gear
The Cosmos Trawl fishing gear package is as follows:

The Cosmos Trawl fishing gear package is as follows:

4000 metre DynIce Warps with a 40mm diameter

2200 metres of DynIce Data headline sounder/data cable with a 12.80mm diameter

DynIce sweeplines and backstrops for two sets of pelagic trawl doors, in 38mm diameter

600 metres of 30mm DynIce warp used as underlay for the purse line

400 metres of 24mm DynIce Warp used for the purse seine end line

A T90 herring and mackerel codend

A Helix Hexagon 1112 metre mackerel and herring pelagic trawl


A Helix Hexagon 1216 metre mackerel and herring pelagic trawl made by Nordsötrawl in Thyboron, a member of Hampidjan Group.

A Helix 10,240 mesh trawl, designed for spaerling and sandeel

Two 70 metre spaerling codends

One purse seine for herring and mackerel
Plus an assortment of spares

Cosmos Trawl and Hampidjan would like to wish the owners and crew of Astrid many years of safe and successful fishing